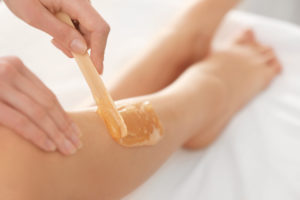 At The Beauty Spot we offer a variety of face and body waxing treatments. From leg waxing, eyebrow waxing, bikini waxing through to male waxing, our friendly and experienced beauticians can cater for all your needs.
Waxing vs shaving
The classic beauty feud between waxing and shaving has been going on many years, but we are here to tell you that waxing is proved to be the best hair removal method. Waxing can remove larger amounts of hair with more speed and guarantees smooth and hairless skin for a longer amount of time.
For those of you who have sensitive skin or are susceptible to discolouration, waxing is the smarter choice as you can avoid any rashes, marks or cuts that a razor may cause. Other longer-term benefits include less ingrown hairs, the slowing down of hair growth and finer hair when it does come through.
Top 5 waxing tips
Despite all its positives, we understand how waxing can be a daunting, so we've put together a list of top tips of how to prepare yourself for the best waxing experience possible!
A warm (not too hot) shower before waxing will help open your pores, making hair removal easier and therefore less painful.

Whilst exfoliating should be a part of your skincare regime anyway, it also benefits to do so pre-waxing as it removes dead skin cells and oils from the skin surface, providing better adhesion for the wax to grab the hairs.

Longer hair can make the process a lot more uncomfortable, so don't leave it until your hairs are too long. However, if the hairs are too short the wax won't adhere properly, about ¼ inch is the minimum recommended length.

As much as a glass or two of wine might seem like a good idea pre-waxing, its best to avoid alcohol, coffee and caffeinated drinks a few hours before your appointment as these can make your skin more sensitive. The same goes for exercise as the enhanced blood circulation will also make your skin more sensitive.

30 minutes before your waxing appointment take an Ibuprofen or Aspirin to help reduce the pain.
Our final and most important tip is… relax. Easier said than done we know, however the more you tense up are the more likely you are to feel pain – but not to worry, we are experts and you are in safe hands!
If you're interested in our waxing services then give us a call on 01256 460 076 or book online. The Beauty Spot is based in Basingstoke near the town centre, with free car parking and a rewarding loyalty scheme.