Over time it is only natural that your skin begins to age resulting in wrinkles, loss of elasticity and sagging skin. Harsh environmental elements, such as UV (ultraviolet) light from the sun, make your skin less elastic and wrinkly, whilst gravity causes skin to sag. If you're looking for an effective, but non-invasive, anti ageing skin treatment then look no further. Just one Focus Dual HIFU treatment at our Hampshire based aesthetic beauty salon in Basingstoke can give your skin back its snap, leaving you with a fantastic glow and the ultimate skin confidence boost. The treatment, from our trained team of professionals, is safe, straight-forward and very effective. Read on to find out more about how our simple HIFU treatment can give you long-term results for healthy and youthful looking skin.
What is HIFU technology?
HIFU stands for High Intensity Focused Ultrasound. It is a technology that targets the SMAS (superficial musculoaponeurotic system) layer which is below your skins epidermis, dermis and hypodermis layers and above your muscle layer. This skin layer was previously only accessible by surgery.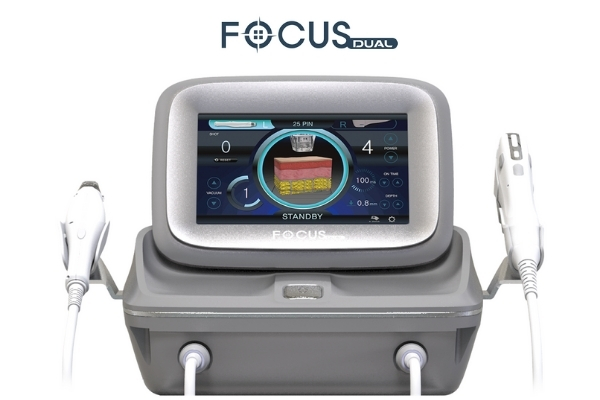 How does HIFU work?
Through a special cartridge that is gently placed on your skins surface, the Focus Dual system delivers focused ultrasound waves deep into your skin without damaging the surface. HIFU elevates temperatures to 65 – 80 °C, resulting in the production of collagen and elastin.  The heating of the targeted area in this way stimulates the natural process of neocollagenesisis – the formation of new collagen – a protein that provides structure to the skin.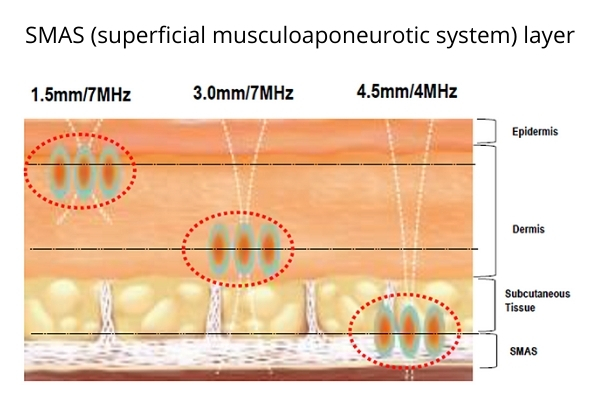 HIFU treatment results
Higher levels of collagen result in your skin becoming firmer, younger-looking, and wrinkle-free. HIFU has become one of the most sought-after lifting, firming, and skin tightening treatments for the face and neck. Sometimes called the 'lunchtime facelift' the HIFU treatment is quick, with virtually no downtime and very tolerable.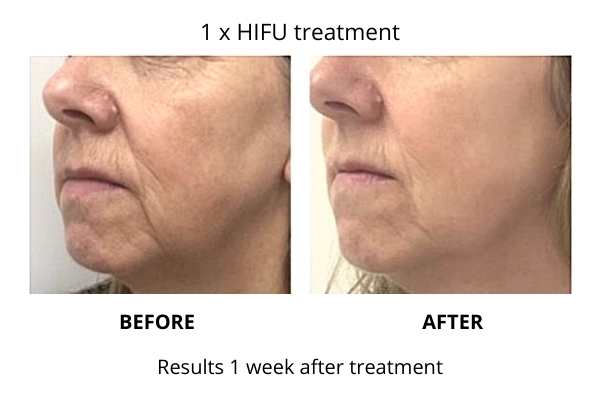 HIFU treatment options
Our focus Dual HIFU treatments can be used for a range of anti ageing skin treatments and other aesthetic treatments, such as:
Skin tightening
Wrinkle reduction
Non-surgical face lifting
Correction of facial shape
Cheek lifting
Chin reduction
Reduction of eye bags
Eyebrow lifting
Scar treatment + more
How long will HIFU treatment results last?
Our HIFU treatments focus on accentuating your skins natural beauty, giving you authentic results and confidence in your skin for up to 1-2 years, dependent on your lifestyle and maintenance. Following treatment results can usually be seen immediately, but the results get better and better up to 12 weeks post treatment as your collagen is renewed – your skin naturally lifts and tightens over time.
Post treatment your therapist can recommend a tailored maintenance package and the correct aftercare products to maintain longer-lasting effects.
At The Beauty Spot in Basingstoke, Hampshire, we offer HIFU treatments alongside RF Microneedling with our Focus Dual machine, which combines these two clinically proven technologies for facial treatments. Get in touch to find more about this treatment that achieves unrivalled results.
To find out more about our Focus Dual HIFU treatment and pricing click here.
Call us on
01256 460076

or

contact us

to book a free, no obligation, anti ageing skin treatment consultation and we can tailor the perfect package to give your skin back its SNAP!