If you know the power of great brows, grooming them is probably part of your daily beauty routine.
However, getting them just right takes up time (…when you could be hitting snooze or having a coffee). Pencils, pomades, powders, gels, waxes, and brow mascaras all add up in cost, take up space, can create mess (and that packaging probably ends up in landfill).
Don't you wish that there was a magic spell that meant you could wake up with your best ever brows, all ready for the day ahead, with fewer products and a lot less hassle?
Let us introduce you to microblading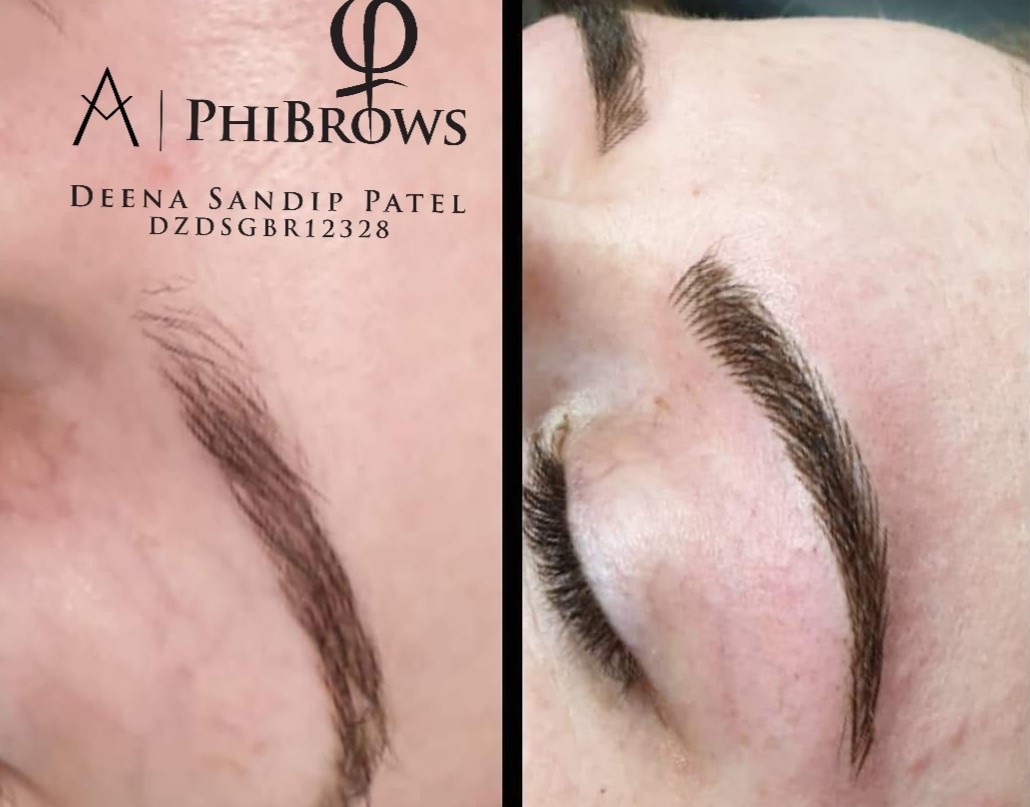 The Beauty Spot is now offering microblading in Basingstoke. Microblading is a semi-permanent tattoo technique that we can use to make your eyebrows appear full, thick, and gorgeous. Not quite magic, but not far off!
A hectic lifestyle, active or outdoor work and hobbies, a history of overplucking, illness, injury, and ageing are all reasons why you might want to opt for this technique as a way to restructure, refill, and redefine your brows – in a way that lasts.
When you visit our friendly Basingstoke salon for a microblading consultation, our resident expert, Deena, will have a good chat with you about the shape and colour of your eyebrows and whether microblading is right for the look you would like to achieve. She will explain in in detail how the treatment works and the ways in which it might suit you.
If you decide to go ahead with the treatment, 2 patch tests will be performed to check for allergic reactions to the pain relief liquid and the microblading pigment.
Put your best face forward with the right brow shape
Elle magazine describes microblading perfectly:
"Microblading is a type of eyebrow architecture. It is all about creating the best shape for each face – a totally bespoke approach for each client."
We all know what a difference the right hairstyle can make to our face shape, but what about our eyebrows? Did you know that…
Straighter eyebrows can balance a long face?
Oval faces only need a slightly angled brow?
Arched eyebrows can slim a round face?
A low-arched, medium-size brow can soften a square shape?
You can alleviate the sharper chin of a heart shaped face with a lower arch?
How microblading works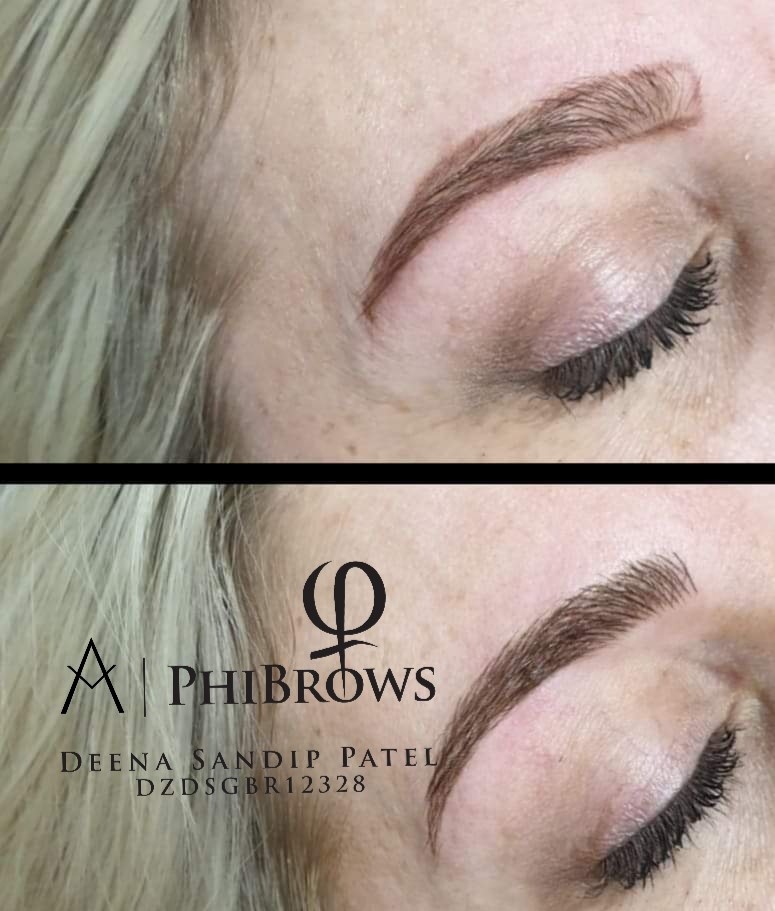 Deena uses PhiBrows for microblading, a manual, semi-permanent technique of hyper-realistic eyebrow drawing, in which the shape of eyebrows is calculated according to facial morphology proportions.
Once the shape has been carefully mapped onto your skin and approved by you, Deena will use a small bladed tool to delicately implant a medical grade pigment into the epidermis. She uses fine, featherlight strokes to naturally mimic the effect of missing hairs in a way that looks subtle and real.
We carry out all microblading treatments in the comfort and privacy of our COVID-secure beauty salon in Basingstoke, in 3 stages. Your initial consultation and patch testing will be followed by the main treatment, which takes 2-3 hours.
Comprehensive aftercare advice (and cream) will be provided, and it is vital that you follow it for the best results.
A follow-up appointment is needed 6-8 weeks after that, to make adjustments once your skin has healed.
Good to know
You'll be advised on a thorough microblading preparation and aftercare routine when you book your treatment with us, but here are few things you might like a heads-up about:
Microblading lasts for around 12-18 months, depending on your skin type
Yep, it's uncomfortable but not as painful as you might think (and a numbing liquid is used)
Ditch the workout on the day – and no sweaty exercise for 1 week afterwards (brilliant excuse!)
Keep showers cool and brief for 10 days after and don't go swimming
Make-up and skincare products cannot go anywhere near your brows until they've healed
Brows will appear significantly darker for the first 7-10 days during the healing process, where scabs can form and flake off. After that, the final colour will blossom!
Keen to try microblading in Basingstoke? Call us on 01256 460076 or email enquiries@beautyspotbasingstoke.co.uk to find out more.
We also offer a range of temporary eyebrow treatments in Basingstoke such as tinting and shaping, including henna brows and Billion Dollar Brows.