Do you look in the mirror and feel unhappy with your skin? Do you suffer from issues with skin pigmentation, red veins, active acne or acne scarring? All of these things can impact you mentally as well as physically, making you feel low and lacking in confidence. So, if you're looking for a winning skin treatment near you, here at The Beauty Spot in Basingstoke we're on a mission to make you look and feel good on both the inside and out.
Our team of professional beauty therapists at our salon in Basingstoke are fully trained in a wide range of the most up-to-date and effective skincare treatments, such as IPL and Celluma, to target all of your skin concerns.
IPL acne treatment – what is it and how does it work?
IPL acne treatment is an extremely quick, safe and effective way to target acne causing overactive sebaceous glands without the use of medication. It targets the most common acne causing bacteria using an intense pulsed light system. This treatment not only reduces active acne, it also improves your skin texture, lessens the occurrence of future breakouts and reduces red and brown patches of skin often associated with acne breakouts.
Click here to find out more about our IPL acne treatment.
Celluma active acne and acne scar treatment
Celluma is an award-winning blue light therapy device based on NASA-researched technology. Blue light eliminates acne faster than traditional light therapies using blue wavelengths to kill the bacteria that causes breakouts, whilst reducing inflammation, pimples and redness associated with acne breakouts.
Celluma is not only fantastic for targeting acne, it's also great for a range of other skin concerns including: open and enlarged pores, oily combination skin, eczema, scars, wounds, burns and has great anti-aging capabilities.
You will usually see a significant reduction in acne and a vast improvement in your overall skin appearance after just a few treatments within 4-6 weeks.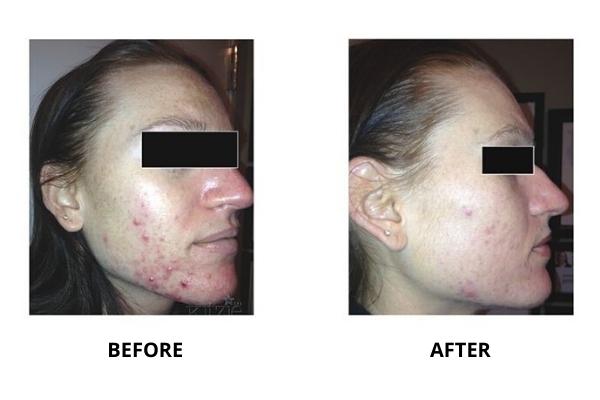 Celluma treatments are safe to take place at any time throughout a course of treatments, enabling us to target multiple skin conditions quickly and effectively.
We can provide you with a bespoke tailored package to target active acne, acne scarring and other skin concerns using a combination of treatments including: IPL, Celluma LED light therapy and RF microneedling, alongside traditional facial treatments.
Click here to find out more about our Celluma LED Light Therapy treatment and pricing.
IPL skin pigmentation treatment – what is it and how does it work?
If you suffer from pigmented skin lesions, such as freckles, sunspots, age spots and darker patches of skin these can be target using our IPL skin pigment treatment.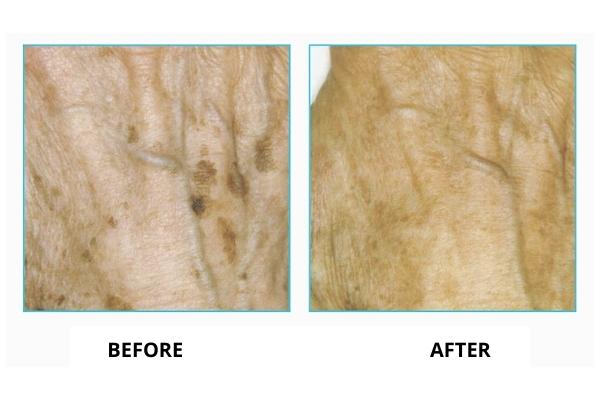 Hyperpigmentation, the most common form of skin pigmentation, is caused by the excess production of melanin resulting in the appearance of patched of skin that are darker than the surrounding areas. IPL light targets the melanin, destroying the melanin-rich cells, resulting in a more flawless, youthful and glowing appearance.
Click here to find out more about our pigment removal treatment and pricing.
IPL red vein treatment – what is it and how does it work?
IPL is an effective red vein removal treatment for facial thread veins, rosacea, 'port wine' stains and spider naevi.
IPL light directly targets just the affected area, causing the blood inside the tread veins to coagulate (dry and harden), so they can be absorbed naturally by the body leaving little or no trace of the original skin lesion on your skin. You will usually see a significant results after just 3-5 treatments.
Click here to find out more about our red vein removal treatment.
Tried and thoroughly tested skin treatments
You can rest assured that we only use thoroughly researched and trialled technology for all of our salon skincare treatments – our IPL and *Celluma devices all have FDA clearance.
*Note Celluma is not approved for use on children under 12 years of age.
Let us get under your skin with our 'Skin Health Event'
If you're suffering with skin concerns, or just want to find out more about your skin type and which products to use for optimal results, don't miss our 'Skin Health Event'
The Beauty Spot skin clinic is running this event on Tuesday 29th March 2022, between 5-8pm.
Call us now to book a slot for your 20-minute skin consultation.
So, if you're looking for a Basingstoke skin clinic offering tailored skin treatments near you, then look no further! Speak to our friendly team of professionals at The Beauty Spot to discuss your skin concerns on 01256 460076.