Discover the Sun Soul range at The Beauty Spot Basingstoke. We all love a sun kissed complexion and the sun leaves the skin looking healthy while stimulating the production of Vitamin D; essential for the absorption of calcium for healthy bones, you only need 15 minutes in the sun to enjoy its benefits!
However, sunbathing without the right protection or prolonged exposure to the sun increases the risk of skin disease and guarantees early ageing of the skin. We recommend using the Sun Soul collection from Comfort Zone to nourish and protect the skin. Here are just a few of the products you could benefit from using…
Intensify your tan with Sun Soul Cream Gel Tan Maximiser (£17)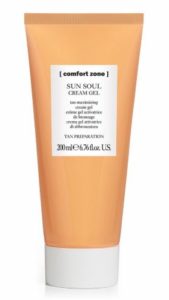 Do you want to make your tan flawless? If so then buy Sun Soul's Tan Maximizer. This non-oily cream gel for the face and body prepares, intensifies and prolongs your tan and helps counteract skin ageing signs.
Apply to the face and body for a few days prior to and during sun exposure, combined with the appropriate SPF product and followed by Sun Soul Aftersun Body Cream prolong the benefits. For a more intense effect, it's recommended to use the product for ten days prior to sun exposure.
Other benefits: intensifies the tanning process in just a few days, anti-aging action, dry touch texture which is quickly absorbed (no stickiness!).
Protect you skin with Sun Soul Cream SPF 15 (£18)
For the face, this sun cream has high UVA and UVB protection which means that you are protected from the damaging sun rays. It is enriched with anti-ageing and antioxidant active ingredients to help preserve the skin's beauty, preventing dehydration and protecting against signs of photo-ageing (premature aging of the skin caused by repeated exposure to ultraviolet radiation – not something you want!).
Other benefits: dry touch texture, optimal spread-ability without stickiness, rapid absorption guaranteeing easy use.
Prepare and sooth your skin with Sun Soul Aftersun Body Cream (£21)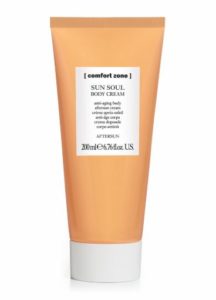 If you've accidentally exposed your skin to too much sun, then use this soft, refreshing aftersun cream to soothe your skin. Perfect for sun damage skin, the aftersun cream also prepares your skin for further sun exposure. Enriched with anti-aging and softening active ingredients, it effectively restores hydration and relieves the skin.
Other benefits: anti-ageing action, dry touch texture, immediate relief from sunburn so you can carry out your day as normal.
Your summer staple – Comfort Zone Sun Soul Milk (£21)
A water resistant milk spray for the body with medium UVA and UVB protection. Enriched with anti-aging active ingredients to preserve the skin's beauty. It has an ultra-light texture that is rapidly absorbed, guaranteeing easy and pleasurable use – don't go without this summer must have!
Other benefits: UVA UVB water resistant broad spectrum protection, anti-aging action for the protection and repair of the skin's dna, dry touch texture which is quickly absorbed.
You can view the full Sun Soul collection here.
Buy the Sun Soul range at The Beauty Spot. Give us a call on 01256 460 076 or email enquiries@beautyspotbasingstoke.co.uk. Additionally why not check out our facial treatments if you're interested in others way you can help your skin. You can book in now.