Valentine's Wellbeing Pack
Valentine's lockdown – how to de-stress and reconnect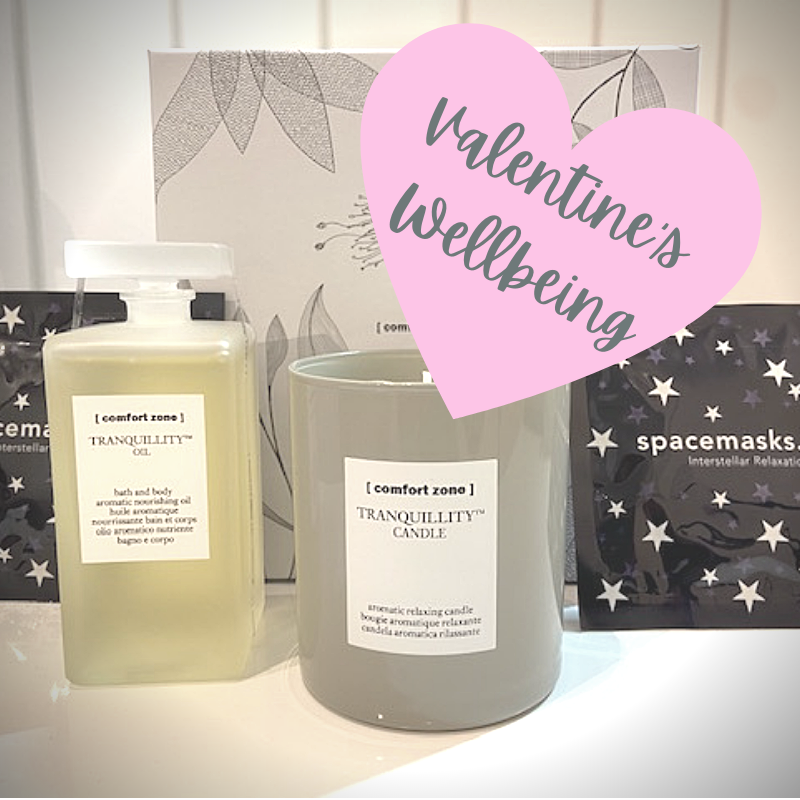 De-stress and reconnect this Sunday with our 'Valentine's Wellbeing' pick me up pack. The perfect way to set the romantic scene, or just give yourself some much deserved TLC.
The pack includes:
1 x 200ml [comfort zone] Tranquillity Oil
1 x [comfort zone] Tranquillity Candle (over 55 hours burning time)
2 x Spacemasks
Pack price £60 (pack contents worth £75, total saving of £15)
Tranquillity Oil  – This versatile aromatic amaranth oil is ideal for use in the bath, as a massage oil, or applied directly to dry patches of skin. The exclusive blend of essential oils nourishes skin, leaving it soft and silky, whilst alleviating stress and tension, providing a sense of calm and wellbeing.
Active ingredients include: Cedarwood, Sweet Orange, Rose, Sandalwood, Geranium and Vetiver essential oils, plus Amaranth oil which is high in Vitamin E and fatty acids, excellent for dry, damaged and aging skin.
Tranquillity Candle – The Tranquillity Candle is the perfect partner for the Tranquillity Oil to create the ultimate relaxing environment for a romantic Valentine's bath or massage. The aromatic floral fragrance from the Tranquillity Candle diffuses sweet orange and cedarwood in to the atmosphere, creating a pleasant sense of relaxation and wellbeing.
Spacemasks – These self-heating Jasmine scented eye masks relieve tiredness, eye strain and other tensions, the perfect way to end your Valentine's evening as you drift off together and enjoy a wonderful night's sleep.
See our below video for massage techniques using [ comfort zone ] Tranquillity Oil.
Click the below button to buy your 'Valentine's Wellbeing' pick me up pack.
We can deliver directly to you within the Basingstoke area, arrange a click and collect time slot to suit you, or for a £5 fee arrange delivery outside of the Basingstoke area.
Subscribe now to receive our monthly newsletter