If you want to throw out the razor, tweezers and hair removal cream and permanently reduce hair growth ready for Spring 2022, now's the time to start planning your IPL hair removal treatment. IPL (Intense Pulsed Light) is a popular and incredibly safe permanent hair reduction treatment that has been tried and tested for many years.
We are currently offering special bespoke packages to clients who want IPL hair removal treatments on 2 or more areas. Throughout October and November 2021 book a free no obligation consultation to discuss your specific areas of concern and take advantage of this offer.
In the meantime, we want to answer some of the most common questions we get asked around the permanence of hair removal using IPL and address any concerns you may have over side effects and the safety of IPL treatments. So read on to find out more…

Does IPL permanently remove hair?
One of the main questions we get asked around this treatment is 'does IPL really permanently remove hair?'
IPL treatment is extremely effective for hair reduction and over time there will be minimal regrowth. In the beginning stages of your treatment the hair that does come through will be finer and less noticeable.
Because your hair grows at different stages only hair that is actively growing is affected at the time of the treatment, therefore multiple treatments are needed to achieve good results.
The required number of treatments varies, but typically 6 or more treatments are needed for optimum results. After about 6 sessions 70% of hair is usually permanently removed.
We put a treatment plan in place for you and schedule a treatment every 4-8 weeks, depending on the area, until satisfactory results are achieved.
However, you may need a maintenance treatment yearly, or every 3-5 years depending on your hair follicles.
Is IPL hair removal safe?
As mentioned above IPL is a well-established hair removal treatment that has been tried and tested over many years. It is incredibly safe with minimal risks of side-effects.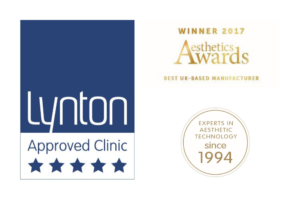 At the Beauty Spot in Basingstoke we are a Lynton approved clinic and we use top of the range Lynton IPL equipment, which has been developed using Dynamic Reflex Technology. This makes them some of the most effective IPL machines on the market. Lynton IPL technology is highly regarded by many Dermatologists and private aesthetic practitioners in the NHS.
All of our therapists are fully qualified and trained to perform IPL hair removal treatments using our Lynton equipment. These devices cover large areas at once reducing treatment time.
Treatment sensations can vary, but it is often described like a flick of an elastic band against your skin. Most clients describe the discomfort as moderate and tolerable. However, if at any time you feel uncomfortable we will stop the treatment immediately.
Side effects may include some reddening of the treated skin area immediately after treatment and the hair follicles may be slightly raised and swollen, but you can usually expect this to subside within a few hours, just as you would with waxing or threading.
A very small number of IPL clients get small blisters or temporary lightening or darkening of the skin, but this is very rare.

Is IPL the right hair removal treatment for you?
Best results are usually achieved with clients who have fair skin and dark hair. Dark hair is more easily treated as it has a higher concentration of melanin than fair hair. Unfortunately, grey/white hair has no melanin so is not suitable for IPL treatment.
How does the IPL hair removal treatment work?
Prior to treatment you need to book your no obligation consultation in which we discuss your medical history to confirm your suitability for treatment. This is also a good opportunity for you to ask any further questions you may have around the process. Before treatment commences you must provide written consent and a small test patch will be carried out.
Treatments can take as little as 10 minutes to an hour, depending on the size of the treatment area.
The treatment area is targeted using the IPL device and light is selectively absorbed by melanin, the pigment in the hair follicle. The light energy heats the pigment and effectively destroys the hair follicle without damaging the surrounding cells.
The hair follicles are damaged by the heat, but the hairs remain in the follicles. The dead hairs shed after 1-3 weeks as the epidermis (outermost layer of your skin) renews. During this period the hairs will seem to 'grow' as they are pushed out by the new epidermis.
Click here

to find out more about our IPL permanent hair reduction treatment and see our price list. If you would like to book your free no obligation consultation click here to contact us or call 01256 460076.