Get fabulous looking, long-lasting brows using natural henna products…
If you're looking for a long-lasting Henna brows treatment in Basingstoke then look no further. Using natural henna dye products our bespoke 'Hello Henna' brows treatment means you can ditch the brow pencil and shadows and get great looking brows that last for up to 5 weeks.
Henna tinting not only lasts longer that normal tinting, but it also has the great benefit of being a natural Vegan product. It is gentle on the skin, containing no Ammonia and is lead free – needless to say we're huge fans here at The Beauty Spot. With no side effects henna can be safely used on anyone who is allergic to hydrogen peroxide.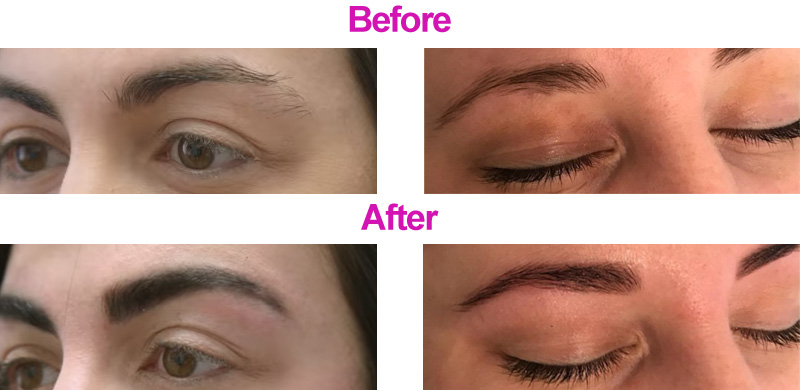 The science bit!
Henna has been used for centuries to dye hair, skin, and nails. It is produced from a flowering plant that contains a natural colouring pigment. Henna is just as popular today as it was centuries ago and is used by millions of women for colouring their eyebrows.
The process is relatively similar to henna tattooing. Firstly we will assess your henna colour. There are 9 different shades to choose from to suit your own individuality! Then we apply a product to prevent the henna from staining unwanted areas of your skin.
Next we apply the henna to your brows. At first you may think the henna is a bit dark, but don't worry, it will be wiped off to reveal your new colour. Finally we wax / shape your eyebrows in your desired shape.
The duration of the henna brow tint depends on both the colour of the henna and how often you wash your eyebrows, but usually lasts for up to 5 weeks.
What does the treatment cost?
£32.00 with an eyebrow shape
£32.00 with a billion dollar brow treatment
*A patch test is required 72 hours prior to treatment
Want an appointment? We're located in Cliddesden Road, within walking distance of Basingstoke town centre – and we have free parking.
You can book your Henna Brows appointment online here – Book online