Top winter facial skin tips, plus facial treatment and facial product offers…
Happy New Year to all our lovely customers, we hope you enjoyed the festivities as much as we did. Sadly after all that over-indulgence it's time for the big detox!
Too much chocolate and unhealthy food, combined with the cold weather wreaks havoc on your facial skin at this time of year.
Luckily we've got some top winter facial skin care tips, along with a nourishing facial treatment offer, plus a special offer on fabulous facial skin care products specifically for your skin type. So go on, give your facial regime a complete overall for the New Year and get your facial skin looking radiant!
The Beauty Spots top 5 winter facial skin care tips…
1) It's a simple tip, but it's our top tip – drink plenty of water. We remember to hydrate in the hot summer weather, but often forget in the winter. Our skin gets dry and cracked from the cold weather and still benefits from hydration, plus after all that chocolate it's a great way to detox your skin.
2) Exfoliate on a regular basis. We recommend exfoliating 2 – 3 times a week using a suitable product for your facial skin. This will help unclog pores to reduce blackheads and spots and remove dull dead skin cells.
3) Use the correct moisturisers. During the day use a moisturiser that still contains SPF as skin still suffers from sun damage at this time of year, so make sure you protect your facial skin throughout the winter. Use a good moisturiser or serum overnight to help replenish moisture and relieve dry/cracked facial skin. Talk to one of our therapists for advice on which moisturiser/serum is best suited to your skin at this time of year.
4) Use regular masks to treat your skins specific problem areas. Whether you suffer from oily skin or dry skin, one of our therapists can recommend the correct mask for your skin type, which used regularly will address problem areas. For example [comfort zone] Hydramemory Mask which provides immediate hydration to dry skin, or [comfort zone] Active Pureness Mask, a mattifying clay mask which absorbs excess sebum on oily skin.
5) Lastly look after your lips with a really good moisturising lip balm to protect against the harsh weather which causes dry chapped lips. We can highly recommend [comfort zone] anti-ageing and hydrating Skin Regimen Juvenate Lip Balm which keeps your lips protected all day long.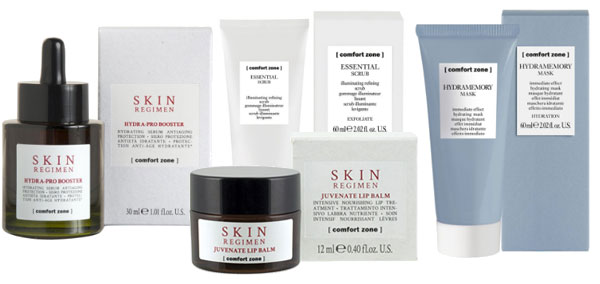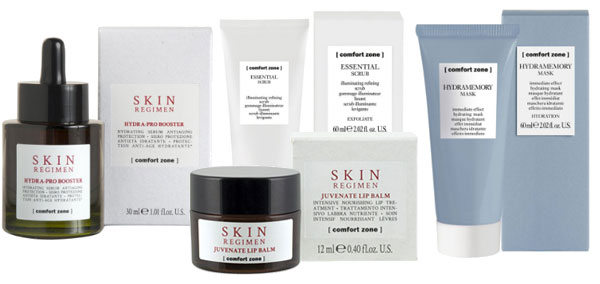 Facial offer – discover your ideal facial skin care regime
To get you started on your path to great looking skin we've got a fabulous facial offer this month.
Get a 30 minute facial at The Beauty Spot Basingstoke for just £25 using [comfort zone] products tailored to your individual needs (for January 2018 appointments only). Includes sample products to take away and try at home.  
We'll also help you work out your new skin care routine, using the best products for your skin type.
All our facials use products by [comfort zone], a refined Italian skincare range that achieves effective results using natural ingredients wherever possible. The whole range is free from silicones, parabens, mineral oils, artificial colours and animal derivatives.
Plus purchase 2 or more [comfort zone] products this month and get 20% off (offer valid throughout January 2018).
Give us a call at The Beauty Spot to book your Facials Basingstoke appointment on 01256 460 076 and take advantage of our special facial treatment offer.
---
The Beauty Spot is expanding…
**We are pleased to announce that due to popular demand we will be making our temporary expansion more permanent. When you arrive at the salon for your appointment please use the blue door at the front of the building where you will be directed to your treatment room**